Press
CSBO and Deloitte join forces to bring concerts to children throughout the West Midlands
4 Feb 2022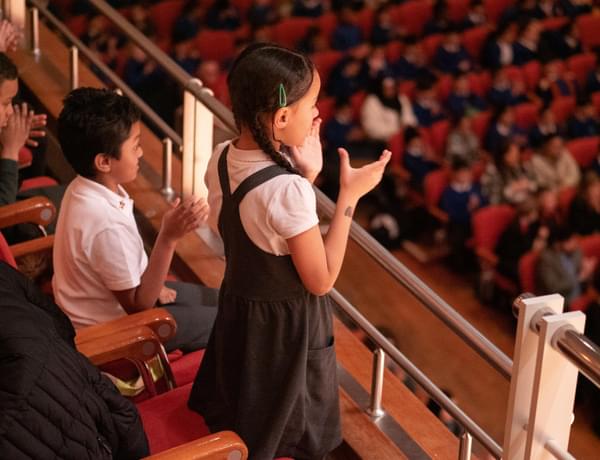 Press Story
The City of Birmingham Symphony Orchestra (CBSO) has announced an extension of its corporate partnership with Deloitte in the Midlands (Deloitte) which will see the multinational professional services network continue its collaboration with the Orchestra to bring inspirational musical experiences to over 13,000 children in the West Midlands through the CBSO's Schools' Concerts for Key Stage 1, 2 and 3 pupils and Relaxed Concerts aimed at children with special educational needs.
Deloitte has supported the CBSO Schools' Concerts since 2017 and this partnership has already enabled an extraordinary 38,449 children to attend a CBSO concert, with many of the young people attending a classical music concert for the very first time.
As part of the Orchestra's 2022 season, Deloitte will sponsor two unique concerts for school children which have been specially devised for students in Key Stages 1, 2 and 3. Natural World will see conductor Michael Seal, presenter Tom Redmond and the world-class musicians of the CBSO take children on a journey exploring the Natural World including performances of works by Sibelius, Stravinsky, Smetana and Boulanger (7, 8 & 9 February). Race Through Space will invite children on an out of this world adventure racing through space and exploring music with presenters Bryony Morrison and Charlotte Skinner and their Space Orchestra performing stellar symphonic repertoire by Gustav Holst, Richard Strauss and John Williams (11 & 14 February).
As part of Deloitte's partnership, and in addition to hosting children at Symphony Hall and CBSO Centre, the Orchestra will also be streaming its Relaxed Concerts to children with profound and multiple learning disabilities. Inspired by The Wind in the Willows, the Relaxed Concerts will enable children who would otherwise be unable to access the concerts, take part in a new musical experience.
Stephen Maddock, Chief Executive of the CBSO said: 'There is something very special indeed about our Schools' Concerts which very often see children and young people from across the West Midlands attending a CBSO performance for the first time. We consider ourselves hugely fortunate that we have an equally special and hugely valued partnership with our friends and colleagues at Deloitte, without whom this wonderful introduction to the world of live music just wouldn't be possible and we are very grateful for their support.'
Claire Evans, a partner at Deloitte in the Midlands and a 5 Million Futures lead for Birmingham, said: 'The Schools' Concerts are a fantastic way of introducing children to orchestral music in a fun and inclusive way and we are delighted to be partnering with the CBSO on this important initiative. Music brings joy to many people and our Five Million Futures programme is committed to overcoming barriers to education to empower individuals with the skills they may need for the future. These concerts will enable many children to experience live classical music which they may not otherwise have the opportunity to do, broadening their education in a positive way.'
---
Further content for CSBO and Deloitte join forces to bring concerts to children throughout the West Midlands