News Story
Katherine Thomas (Principal Harp) reflects on Music & Ability, our project working with students at one of Birmingham's schools for young people with special educational needs.
I count myself incredibly lucky to be a member of the CBSO. The job offers so much: working with incredible conductors and soloists, having great colleagues, playing the most glorious music not only in this country but touring all over the world. However, there is one part of my job which is the highlight of every week – and that is the visit to Chadsgrove School, Catshill. Cor anglais player Rachael Pankhurst and violinist Jane Wright have been visiting Chadsgrove for years, and when I joined the CBSO in June 2020, they asked me to join them. This school is the most extraordinary place and we all feel that it is indeed our privilege to be able to work with the students and staff there.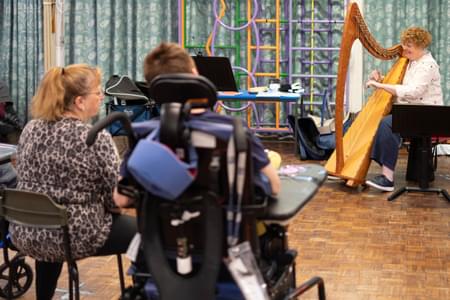 Nestled in the corner where the M5 meets the M42, Chadsgrove is a school which is open to pupils with special educational needs (both mental and physical). Caring for pupils aged from 2-19 years, the focus is on fulfilling each pupil's potential. Music is an important part of the education at Chadsgrove: the students have regular music therapy sessions, there is an Open Orchestra, and many have guitar and keyboard lessons. Where the students have physical disabilities or – like many we work with – are non-verbal, music provides an opportunity to be expressive in a different sound world.
We work closely with class teachers, and if the class is working on a specific theme, we will use this in our sessions too. Themes in the past have included India, parts of the body, farmyard animals, Winter (going into Spring) and Around the World. Our sessions always begin with us playing; to be honest, there aren't many pieces written for violin, cor anglais and lever harp, but after two years, we have amassed an extensive repertoire covering the works of Vivaldi, Mozart, Dvořák, Saint-Saëns, Prokofiev… really anything is possible! After listening to us play, it is now over to the students and the Hello Song, where we welcome each student in turn and give them an opportunity to play an instrument (amongst the favourites are the chimes, frog and happy drum). Regardless of ability, we always find a way to make this work.
It is a very gradual process, but it is incredible to see students' reactions changing from week to week. Watching someone whose hands were always locked in a fist gradually relax and then using one finger to gently brush along the chimes. With the use of her "helping hand" and with true determination, seeing a young girl hold a beater to play a glockenspiel. After five weeks finally seeing a young boy's face when he's joining in with the Hello Song, as up until now he has been too shy to raise his head.
Sensory elements are vital to our sessions. Dvořák's Song to the Moon with finger lights, Saint-Saëns' Aquarium from Carnival of the Animals with bubbles swirling around the room, Vivaldi's Winter with students passing through a magical (and glittery) "door". Five Little Ducks has been a big success recently (but in all honesty, I think we all enjoy it as much as the students!) The tractor has chugged around to the theme from All Creatures Great and Small and Black Beauty is always accompanied by students playing various percussion instruments. We have worked on pitch – using a ball on a broomstick to find out whether students want us to play higher or lower notes. With older students we improvised a samba, giving solo spots allowing the students to duet with one of us. Whilst it can be a cauldron of sound in our sessions, we always allow time for music alone and listening. It gives us all an opportunity to relax without any distractions. Seeing a child totally relaxed is so special in a world where it is filled with so many challenges. Be it on foot, in a chair or in a bed, every session ends with a "moving dance" for everyone to enjoy!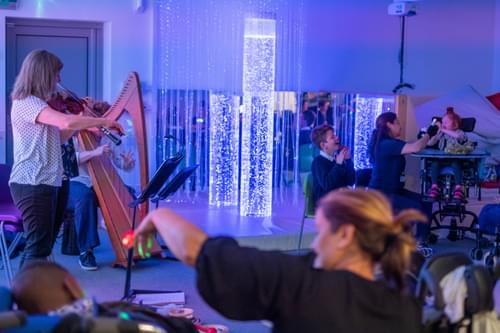 We would like to thank all our donors, in particular Trusts and Foundations, for their ongoing support so that we can keep delivering projects like this.
If your are interested in helping to make projects like this possible, find out more about the different ways that you can support us.
---
Whilst our orchestral playing keeps us on our toes, working with the students at Chadsgrove challenges us in many different ways. Ultimately, patience is the key to everything. We have worked with students that don't like music: with those, we introduce the instruments slowly and gradually build up the dynamic level of the music. During this past term we have worked with a young girl with sensory challenges who wouldn't touch anything. With this specific class, repetition was the key and whilst they could choose the order of the activities, we played the same music each week. Initially, this young girl would fling her arms behind her head and wouldn't touch anything; after a couple of weeks, she tolerated playing a small harp with her feet before finally touching strings with her hands. Rachael and Jane had previously worked with an extraordinary young boy who showed great musicality – being able to play (and pick out) tunes on the piano. Despite being non-verbal, he would remember pieces we'd played the previous week and sing them to us during our next session. He wasn't subtle in letting us know what he wanted to hear – frequently singing a song by ABBA when we'd finished playing. I found his response to our music incredible: his ability to remember what we'd played, being able to sing so confidently and seeing his determination and persistence.
Our work at Chadsgrove would certainly not be possible without the support of the teachers and teaching assistants. Helping students hold instruments, calming them or encouraging them gently to participate, they are a key to the success of our work at Chadsgrove. Whilst our focus is on the students, it is lovely to see the joy that the adults get from our sessions. They witness the developments in the students and always say how much our music contributes to this. In an environment which is challenging, it is good for us to give everyone a chance to relax and enjoy, and it is clear that our sessions benefit not only the students but the staff too, bringing everyone together, giving them so much confidence and joy over the years.
There is so much for us all to learn from the students and staff at Chadsgrove. Yes, the work is challenging and emotional, but it also comes with a lot of joy and laughter too. Jane, Rachael and I are unanimous in saying that our work at Chadsgrove is an integral part of our job with the CBSO and we hope that this partnership will continue for many, many years.
Katherine Thomas
Principal Harp

Get to know Katherine, and find out more about her work!