News Story
Stephen Maddock has today completed his 23 and a half-year tenure as Chief Executive of the CBSO, before starting his new role as Principal of the Royal Birmingham Conservatoire at the start of May.
His final concert was a sold-out performance of Andrzej Panufnik's Sinfonia Sacra and Carl Orff's Carmina Burana, conducted (in his first concert as Chief Conductor and Artistic Advisor) by Kazuki Yamada, and featuring the CBSO family of choruses.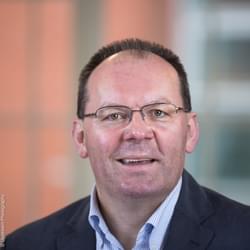 ---
Stephen joined the CBSO as Chief Executive in October 1999, following 7 years as Administrator of the BBC Proms. During his time at the helm, the CBSO has won consistent acclaim for its work with Music Directors Sakari Oramo, Andris Nelsons and Mirga Gražinytė-Tyla, and Principal Guest Conductors Edward Gardner and Kazuki Yamada. In this period, the CBSO and its choruses have undertaken 78 tours to 34 countries in 4 continents, most recently a US tour in October which ended in a sold-out concert at Carnegie Hall, New York, and a 10-concert European tour last month.
The Orchestra has recorded more than 70 CDs across almost every major label (and won the Gramophone Recording of the Year award twice), and hundreds of CBSO concerts have been shared on radio, TV and on a range of digital platforms. It has given World or UK Premieres of more than 160 new works, appeared every year at the BBC Proms, and its work has been recognised on multiple occasions at the RPS Music Awards, Gramophone Awards, Sky South Bank Awards and with other international prizes.
High-profile artistic projects in Birmingham have included: Igorfest (a four-year complete cycle of the music of Igor Stravinsky, produced in partnership with Birmingham Royal Ballet); an Elgar celebration marking the composer's 150th birthday with all three of his great oratorios written for Birmingham; a series of Centenary Commissions featuring 20 works by established composers and 20 short works by rising stars; a series of innovative collaborations with Bollywood and other South Asian artists; and a huge number of acclaimed opera performances including Peter Grimes and Tosca (with Oramo), Der Rosenkavalier and Parsifal (with Nelsons), Idomeneo and Pelléas et Mélisande (with Gražinytė-Tyla), Falstaff (with Gardner) and five award-winning collaborations with Birmingham Opera Company: La Traviata, Khovanskygate, The Ice Break, Lady Macbeth of Mtsensk and Rhinegold.
Over the last two decades the CBSO has significantly diversified its concert series, repertoire, and audience appeal with an inclusive offer that now encompasses everything from film scores, West End shows, pop and rock's greatest hits, sessions in social clubs, free pop-up performances at New Street Station and concerts for pre-school children and those living with dementia. Last summer saw the orchestra perform to a TV audience of 1 billion people at the Opening Ceremony of the Birmingham 2022 Commonwealth Games, while the CBSO's commitment to building the audiences of the future includes a generous ticket scheme for students and under-30s, and an annual cohort of Youth Ambassadors.
The CBSO family has continued to grow in this period, with the addition of the CBSO Youth Orchestra (from 2004), SO Vocal (its free community choir, 2012), and many other initiatives to encourage music participation among local people of all ages. This September the new Shireland CBSO Academy will open in Sandwell, the first music specialist school of its kind in the world to be designed in partnership with a major orchestra. The CBSO has also enhanced its reputation for identifying and encouraging young talent, with a host of ex-CBSO musicians, staff and conductors now enjoying outstanding careers around the world.
In financial terms the CBSO has been significantly strengthened under Stephen's leadership. The CBSO has moved over the last two decades from running regular deficits alongside a small endowment, to a position in which both its reserves and its endowment are at record levels, as is annual fundraising. The Orchestra recently secured standstill grant funding for the next three years from both Arts Council England and Birmingham City Council.
Stephen has served on a range of local and national boards including Culture Central, Marketing Birmingham, the Association of British Orchestras and the Henry Barber Trust. A frequent broadcaster, he has been one half of the Midlands team on BBC Radio 4's longest-running quiz show, Round Britain Quiz, since 2003. He was awarded an OBE for Services to Music, particularly in the West Midlands, in The Queen's New Year Honours 2017.
His message in last night's programme was as follows:
Tonight's programme marks an exciting new beginning for the CBSO: after a few years as our Principal Guest Conductor, my dear friend Kazuki Yamada will be giving his first upbeat as the Orchestra's new Chief Conductor and Artistic Advisor.
We are in for an exuberant evening's music-making both Sacred and Profane, with around 400 performers on stage after the interval. There is a neat CBSO connection in the first half: Andrzej Panufnik was one of Kazuki's predecessors as CBSO Chief Conductor (1957-59), and his Sinfonia Sacra was commissioned by the Monte Carlo Opera Orchestra, of which Kazuki is currently Music Director. They gave the premiere in 1964, conducted by their then Music Director Louis Frémaux, who later joined the CBSO in 1969. Panufnik himself conducted the UK premiere with the CBSO in 1965, and returned in 1984 to conduct it again here.
It is this kind of cycle of life and rebirth that Carl Orff celebrates in his thunderously entertaining Carmina Burana. And the wheel of fortune has also rotated round to the point of my own departure after nearly 24 years as Chief Executive. I have had the most wonderful time in what is without doubt one of the best leadership roles in the arts, and those 24 seasons have produced so many indelible and magical memories for me (and I hope a few for each of you, too).
I have been very fortunate to be able to work with so many wonderful musicians: not just Sakari Oramo, Andris Nelsons, Mirga Gražinytė-Tyla and Kazuki, but also Simon Halsey, Ed Gardner, Mike Seal, Julian Wilkins and all our assistant conductors and of course a myriad guest artists. But there would be no music at all without the 90 brilliant, dedicated, passionate members of the Orchestra itself, the energetic, committed members of all our choruses, the amazing youth ensembles, or indeed the hard-working staff team that make all this musical magic possible.
And there would be no point in our going to all these efforts if you were not there to join us at Symphony Hall for the concerts! The CBSO is so lucky to have such dedicated and loyal audiences and such generous donors.
I am acutely conscious that those of us lucky to sit in my seat are just temporary custodians of this magnificent institution, and I hope that you will give my successor Emma Stenning as much support and encouragement as you have always given me. From my new seat as Principal of Royal Birmingham Conservatoire, I look forward to watching the CBSO grow towards an even more brilliant future over the coming years under Emma and Kazuki's leadership.
I hope you have a thoroughly enjoyable evening!