News Story
Hop on the tour bus!
Join us as we take a look back at our most recent tour to Freiburg, Stuttgart, Zurich, Bern, Geneva and Lucerne. With conductor Kazuki Yamada and soloists Louis Schwizgebel and brothers Lucas and Arthur Jussen. In each city, we shared some of our favourite music with varying programmes that included:
Prokofiev "Classical" Symphony
Mozart Double Piano Concerto (K316A)
Rimsky-Korsakov Scheherazade
Saint-Saëns Piano Concerto No.2
Rachmaninoff Symphonic Dances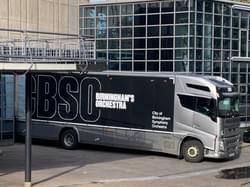 Germany: Freiburg and Stuttgart
Wednesday 18 October - Saturday 21 October

Arriving in Freiburg, it was like a home away from home with a steady stream of fine rain. The Orchestra arrived safely for their first performance with Lucas and Arthur Jussen at the Freiburg Konzerthaus. Then there was a free day to kick back and relax before the second performance of the tour in Stuttgart. The Orchestra travelled with their own classical timpani to enhance the sound of the Mozart Double Piano Concerto.

---
Switzerland: Zurich, Bern, Geneva and Lucerne
Sunday 22 October - Friday 27 October
In Zurich, the Orchestra welcomed Louis Schwizgebel to the tour, as well as rehearsing with Assistant Conductor Rita Castro Blanco who helped to check the sound balance as we moved between different acoustics and supported Kazuki in rehearsals.
Geneva was a homecoming for Kazuki, who was Principal Guest Conductor from 2012-2017 of the Orchestre de la Suisse Romande.
After a final performance in Lucerne (and a standing ovation), the players and staff shared a drink together before they headed back to Birmingham.
---
Further content for Tour Diaries: October 2023