News Story
CBSO Chorus Chair Dianne Charles shares a behind-the-scenes view of their last tour to Monaco, as they embark on their next trip.
Our tour to Monaco was the first since the pandemic, so there was a high level of excitement. For several singers, it was their first trip with the CBSO Chorus. Even as as a veteran of many chorus tours, I felt a thrill of anticipation as I boarded the coach in Bishopsgate Street at 3am!

Our group was fortunate in having a very smooth journey in both directions, leaving us plenty of time for sightseeing as well as rehearsals. On arrival at our hotel, a small party set out to explore by public transport and took a train to nearby Menton, an attractive little town on the French coast where we tried, but failed, to find the grave of William Webb-Ellis in the picturesque cemetery overlooking the sea.
Sunday morning was spent on a trip to the old town in Monte Carlo. For me, the narrow streets and historic buildings make it more appealing than the modern part of Monaco, especially with the skeletons of the Grand Prix stands everywhere in evidence. However, the man-made beach which has appeared since our visit in 2019 has added an extra dimension and is full of relatively inexpensive bars and restaurants to visit during our downtime.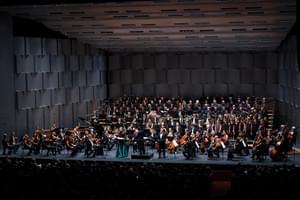 On Saturday afternoon, it was back to business, but rehearsals with Kazuki are anything but a chore. He is an excellent communicator, and the chorus is eager to give him exactly what he wants in terms of timbre and expression. His manner is engaging, and we appreciate his determination to get the best out of us. A break for dinner was followed by more rehearsals and then time to relax before the day of the concert.
After another free morning and afternoon, we were ready for our appearance in Carmina Burana at the Grimaldi Forum. Expectations were high and the performance did not disappoint. The audience's reaction was enough reward for the hours of work that went into it, and Kazuki brought out the best in the Orchestra as well as the choir.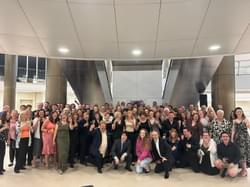 For me, the biggest ordeal was still to come. As Chair of the CBSO Chorus, I had written a speech in French, which I had to deliver at the post-concert reception in a huge space with a large audience of singers, players, conductors and dignitaries representing the Orchestra of Monte Carlo. My words were heartfelt: I thanked the Orchestra for sharing Kazuki with us and told them how delighted we were to have him as our Chief Conductor. I told them how happy we were to have the opportunity to take part in such an exciting project and not to worry if they were going to miss us - we'd be back in the Autumn!
Yesterday, I completed the form committing to the tour in September, and I know that my fellow singers are as thrilled as I am that we will soon be back in the concert hall under the sea, singing in Mahler's amazing Resurrection Symphony with Kazuki and the Orchestre Philharmonique de Monte-Carlo.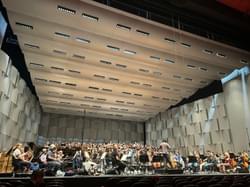 Got questions about the CBSO Chorus and how to join?
Get in touch with Chorus Manager Alexandra Parker
More like this...
Amy Hoult

Senior Marketing Officer
Further content for Memories of Monaco