News Story
The CBSO are delighted to announce the appointment of Lucy Hollins to lead SO Vocal, the CBSO's unauditioned community choir.
We caught up with Lucy to find out more about her work and what she's looking forward to.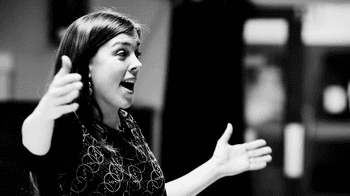 Welcome Lucy, can you give us a bit of an introduction to yourself please?
Hello, and thank you! I'm so delighted to be joining the CBSO family! I'm a conductor, animateur and presenter who is passionate about making music with anyone and everyone. I also love cheese, Harris tweed, writing picture books, and playing the contra bassoon.
How did you come to be a conductor?

It was a total accident! At sixth form college, my music teacher asked me to lead a rehearsal one day, and it just kept happening. At University I threw myself into conducting loads of different groups and learnt on the job before studying orchestral conducting at the Birmingham Conservatoire, where I spent an awful lot of time hanging around the CBSO and badgering their conductors! It was when I was a member of the CBSO Chorus that I started working with voices, and the rest is history…

What's the best thing about your job and what's the most challenging?
The best thing is the people. For me, the greatest joy of being a conductor is sharing amazing experiences with musicians of all ages, musical inclinations and backgrounds. I feel incredibly fortunate to have worked in a huge variety of settings, including prisons, hospitals, schools, concert halls, film sets and even (less glamorous) a sewage treatment works! Being part of a team in which music brings people together and allows them to shine is a wonderful thing. Musical communities are very happy places to be - and they truly are a place where everyone belongs. The most challenging thing about my job is saying no to exciting projects - and ear worms!
When do you start with SO Vocal and when are they performing next?
I start with SO Vocal in November, just in time for the infamous CBSO Christmas concerts at Symphony Hall. These were a real highlight for me when I sang in the CBSO Chorus, and I'm super excited to be coming back to them. It feels a bit like going home - with tinsel!
What would you say to someone who has thought about joining a chorus but never taken that leap?
I spend a lot of time telling people that everyone can sing; it's perhaps a bit of a cliche, but I really believe it's true, and - like anything - the more you do it, the better you can get. Being in a choir is about so much more than singing though; it's about making friends, building and being part of a community, discovering new types of music, celebrating different cultures, having new experiences, bringing joy to audiences, telling stories, wellbeing and having FUN! Scientific research has now given us irrefutable evidence that singing is good for you, both physically and mentally, so what's not to love? I know joining a choir can feel pretty scary for lots of people, but I promise it'll be worth it!
Lastly, do you have a favourite piece that you like to conducts or a work that you've yet to conduct that you'd love to?
Ooh, so much music I love! Mahler's 2nd Symphony has to be the most exciting, emotional and epic piece to conduct for me, and Mahler's Symphony of a Thousand is the ultimate dream. Any offers?!