Leave a Legacy
Help the CBSO to thrive for future music-lovers by becoming a Legacy Donor.
As our musical ambition increases through the Sound of the Future fundraising campaign, so does our determination to inspire more of our audience to give the ultimate gift so that, together, we can secure the CBSO's longer-term future and make an even bigger contribution to cultural life in the West Midlands throughout our second century.

We are thrilled to announce that as part of a renewed corporate partnership, local legal experts, Nicholls Brimble Bhol Solicitors are offering to help promote the importance of making a will by offering a free will writing or amendment service to 20 CBSO audience members, followed by a 20% discount on the standard service fees. We are delighted Nicholls Brimble Bhol are helping us in this mission. Our combined hope is that more people will consider leaving a gift in their will, strengthening our collective determination to create a bright musical future.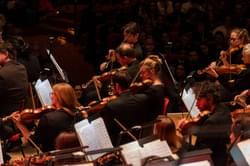 "… I feel it is a privilege to have the opportunity to support the Orchestra with a legacy, thus ensuring that others have opportunities to enjoy live classical music of such a high standard. The CBSO has recently celebrated its Centenary and should be financially facilitated to continue for another 100 years, at least!"
TWO WAYS TO SUPPORT US
The CBSO is a charity with around half of its running costs met by earned income from ticket sales and performance fees. Legacy giving is a vital part of our fundraising mix, contributing 10% on average towards our annual fundraised income!
The act of leaving a legacy gift as the ultimate compliment a supporter could give a charity. We understand your motivations to leave a gift to the CBSO in your will are vast, but two main themes do come up time and time again – thanks to the orchestra for the joy they've given and to play a part in ensuring that joy remains for generations to come.
You can therefore choose for your legacy to go towards:
Supporting immediate CBSO activity, by leaving your legacy directly to the City of Birmingham Symphony Orchestra (registered charity no: 506276)
Supporting the CBSO Development Trust (registered charity no: 1042296), a sister charity to the CBSO which provides regular funding in perpetuity
SAYING THANK YOU
Income received from legacies enable us to plan with confidence which brings an element of financial stability and ensure the Orchestra can continue to flourish.
Gifts of all sizes can, and do, help the CBSO in their entirety. Every single gift is important to us and will be invested and spent with care under the terms you express.

We appreciate leaving a gift in your will is a very personal decision and it is often the case that we don't know someone is planning to do so in their lifetime. But when we do, we're able to say thank you – and that's so important to us. Please do consider telling us by returning the below form or contacting Amy Self, Memberships & Appeals Manager on 0121 616 6541 or via email.
THE PRACTICALITIES
Making a will is usually a quick, simple and inexpensive process.