Oliver, who was born and brought up in Manchester, took up the clarinet at the age of 15 in 2008. For ten years before that he had studied the violin but had decided it wasn't the instrument for him. His grandfather, John Fuest, had played clarinet with the CBSO and convinced Oliver to give the instrument a go. The rest is history!
After two years of lessons with his grandfather, Oliver went to Chethams School of Music to study with Rosa Campos-Fernandez. He followed this with four years at the Royal Academy of Music with Mark van de Wiel. After graduation Oliver freelanced with some of the London orchestras before joining the CBSO as Principal Clarinet in December 2014, describing the months since that as 'the time of my life'. He singles out the Beethoven Cycle in Bonn and Birmingham with Andris Nelsons as a memory he'll never forget.
Outside of the CBSO, Oliver enjoys watching sports in general, playing tennis and cricket and balancing all that physical activity with a love of 'cooking and eating lots of nice food!'
A quick Q&A with Oli...
What is your first musical memory?

My first musical memory was probably dancing around my parents living room listening to all sorts of music, I remember the Rite of Spring being one of the things we listened to! I used to go to a lot of BBC Philharmonic family concerts when I was young and still remember them now! Fireworks coming out of the xylophone and the conductor conducting with a French baguette!
What is your favourite memory with the CBSO?

There have been so many memories with the orchestra that it's so hard to choose just one favourite, almost every week has a memorable moment! A few highlights would be playing Mahler's Third Symphony with Andris, Mirga's first prom playing Tchaikovsky Symphony 4 and also the times I've been lucky enough to play a few concertos with the orchestra!
How do you most enjoy spending your days off?

As much as I can't get enough of playing with the orchestra, free days feel even better! I love having the time to spend with family, at kids parties or football lessons, and then cooking some food in the evening with a really cold beer! Also it's a great time to actually get some practice done, I try and keep 3 weeks ahead of the schedule so that I don't get too snowed under! If I'm lucky I might even get 30 mins on the PlayStation!
What one piece of advice would you give to any aspiring young musicians?

My one bit of advice to young musicians would be to give everything 100%. Listen to as much music as you can, explore different genres and when performing give it everything!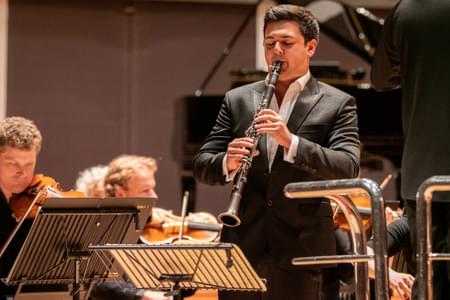 Further content for Oliver Janes