Adrian joined the CBSO in 2011 as Principal Percussion and became Section Leader in 2012. 
Alongside his CBSO work, he is a member of the Colin Currie Group and the Graham Fitkin Band. Other recent ventures include performing Stewart Copeland's Percussion Quartet Concerto with the RLPO,  Gubaidulina's Glorious Percussion with the BBCSSO and featuring on the Kanneh-Masons debut album. 
Adrian was Head of Percussion at Birmingham Conservatoire in 2014-2019 and was formerly Professor of Percussion at the Guildhall School of Music.
Whilst a student in Manchester, Adrian won the prestigious BBC's Young Musician of the Year in 1998 and founded the percussion quartet, 4-MALITY in 1999. 
Adrian claims that his most memorable moment with the CBSO to date was performing the notorious snare drum in Shostakovich 7 at the Proms with Nelsons, calling it 'a truly terrifying and rewarding experience … Never felt adrenalin like it'. He also enjoys the CBSO Percussion Sections Family Concerts, describing them as 'a true percussive spectacle and an awesome force to be reckoned with'. Always partial to a spot of fancy dress, Adrian is immensely proud of the percussion section's fine efforts in the Festive and Friday Night Classics.
A keen cricketer, Adrian is the wicket keeper for the CBSO Cricket Team and used to travel the world to support the England Team. He also cites skiing as a new found obsession.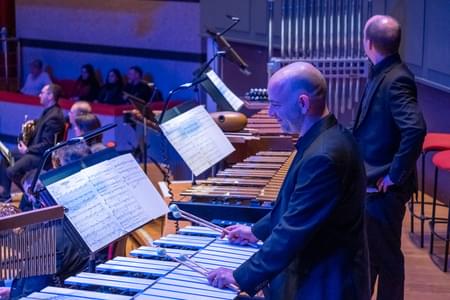 Live in concert
Further content for Adrian Spillett