CBSO Children's Chorus
Do you know a stellar singer aged 7-13? Discover the exciting opportunities for young singers in the CBSO Children's Chorus.
The talented young musicians in our Children's Chorus work alongside a leading professional orchestra and world-class conductors. We perform together in one of the best concert halls in the world, Birmingham's Symphony Hall as well as across the country in venues like the Royal Albert Hall!
The CBSO Children's Chorus rehearses from 5:30-6:45pm every Monday evening during term time with conductor Julian Wilkins. Through their rehearsals, members of the CBSO Children's Chorus grow in confidence, develop as musicians and singers, and learn important performance skills, all while making lifelong, like-minded friends!

Upcoming Vocal Checks
Saturday 21 October
CBSO Centre, Birmingham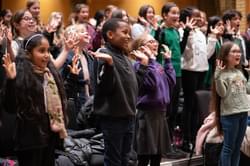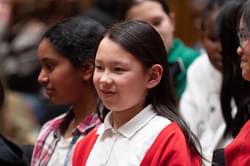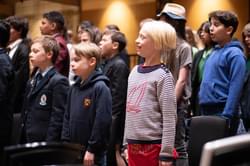 How to Join
Sign up for a friendly 10-minute vocal check which will involve:
Singing a song of your choice from memory
taking part in some musical ear tests
This quick check will help us determine which voice part your child is best suited to, and helps us to get to know their musical abilities better.
Membership Fees
There is an annual membership fee of £110.
Thanks to support from the Leverhulme Trust, bursaries are available to ensure that anyone can join the Children's Chorus, regardless of financial background. Contact Alex Parker at aparker@cbso.co.uk for more information.
Extra Benefits
Each child also has the chance to learn how to use their voice and understand vocal techniques through one-to-one coaching sessions. They'll also take part in weekly music theory classes where they can develop their music reading and aural skills.
Alex Parker

Acting Chorus Manager

Tom Spurgin

Director of Learning & Engagement