Youth Orchestra
Join our dynamic orchestra for incredible young musicians.
Applications are still open for anybody who plays bassoon, double bass, timpani or percussion for February and July 2024! Join the CBSO Youth Orchestra and conductors Jac Van Steen and Mike Seal for one or both of our courses this year, depending on orchestration.
To join the CBSO Youth Orchestra applicants need to undertake an audition with a panel of CBSO musicians, just like a professional orchestral audition. We ask that applicants are working at a minimum of Grade 7 standard for strings and Grade 8 for woodwind, brass and percussion.
Applications Close Monday 16 October.
Apply Now
---
Get to Know Us
WHO
Open to all Midlands musicians aged 13 (in Year 9) to 21, the CBSO Youth Orchestra gives its members an unmatched opportunity to play music in prestigious venues with top professional conductors and soloists. Complementing the region's existing youth and schools orchestras, the CBSO aims to have a youth orchestra that is dynamic, challenging and filled with dedicated young players who share the CBSO's own passion for music.
WHAT
Twice a year, our Youth Orchestra meet to rehearse and perform incredible orchestral repertoire. Receiving direction from professional conductors and CBSO musicians, our talented young musicians explore repertoire from Beethoven to Dani Howard during school holidays, culminating in concerts in Birmingham's best music venues.
WHEN & WHERE
CBSO Youth Orchestra courses are typically held annually in February, and July.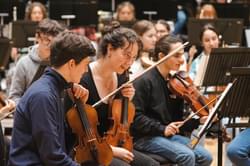 BENEFITS
Sectional coaching from CBSO musicians
Performances with leading professional conductors
The chance to play in Birmingham's Symphony Hall, one of Europe's finest orchestral concert venues
Performing exciting and adventurous music, including regular world and UK premieres
The support of the CBSO's management team - exactly like a professional orchestra
The opportunity to perform in smaller ensembles across the CBSO's Season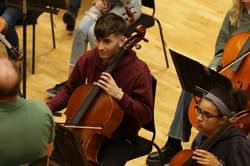 COSTS
£140 for February courses and £120 for July courses.
Scholarships and bursaries are available.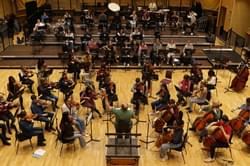 Bursaries & Scholarships
Thanks to support from the Leverhulme Trust, the Blyth Major Memorial Bursary Scheme, Gwynn Williams and the James Langley Memorial Trust, grants are available to support musicians and to cover their fees and any travel expenses incurred as part of the course. Please contact Eben Gutteridge at egutteridge@cbso.co.uk for more information.
Youth Orchestra FAQ
Where and when does the CBSO Youth Orchestra meet?

The Orchestra meets for one week at a time in school half-term holidays (February), for a week long course of rehearsals followed by a concert. Rehearsals are usually between 10am and 5pm, with occasional evening sessions. Rehearsals are usually held in CBSO Centre, Berkley Street, Birmingham. Concerts are usually at Symphony Hall, Birmingham.

The CBSO Youth Orchestra Academy also meets for a week each summer, allowing a selected chamber orchestra drawn from the CBSO Youth Orchestra to perform smaller-scale repertoire, and take part in other musical activities, culminating in a concert at Birmingham Town Hall.
What standard and age do I need to be to apply?

Minimum age: 13 (in year 9)
Maximum age: 21

You need to be at a minimum of grade 7-plus for strings, grade 8-plus for wind, brass and percussion. The orchestra aims to play challenging music to a very high standard, so it's not suitable for beginners, but how you perform in audition is far more important to us than your official 'grade' - so if you're keen to give it a try, and feel ready for the challenge, please do apply, even if you haven't yet taken (or aren't planning to take) your grade 8.

We regret we are unable to accept applications for membership of the CBSO Youth Orchestra on non-standard orchestral instruments (e.g. drum-kit, guitar, saxophone, keyboard etc.)

For further clarification on eligibility please contact Eben Gutteridge at egutteridge@cbso.co.uk.

Do I have to live in Birmingham to join the orchestra?

No, the CBSO Youth Orchestra rehearses in Birmingham, and accepts applications from young musicians from across the Midlands region. Applicants must have a connection to the Midlands to apply. Connections could include the following: residing in the Midlands; previously residing in the Midlands; or studying in the Midlands.

Are the courses residential?

No – members need to be able to get to and from central Birmingham on each day of the course.

Who's the conductor?

The CBSO Youth Orchestra doesn't have a permanent principal conductor or music director – we work with different conductors for each concert, including former CBSO Music Director Andris Nelsons, CBSO Principal Guest Conductor Edward Gardner, CBSO Associate Conductor Michael Seal, Mirga Gražinytė-Tyla and Kazuki Yamada.

Who are the soloists?

An important aim of the CBSO Youth Orchestra is to give its members a taste of what it means to be a member of the CBSO, including having the opportunity to perform with world-class guest artists. Therefore, our policy is to engage soloists who have already performed with the CBSO itself. These have included Katarina Karneus, Christine Rice and Lore Lixenberg (mezzo) Leon McCawley, Peter Donohoe, Joanna MacGregor and Steven Osborne (piano), Julian Bliss (clarinet), Alison Balsom (trumpet), Tasmin Little and Chloe Hanslip (violin) and Guy Johnston and Andreas Brantelid (cello). We don't usually engage non-professional or first-time soloists.

What do you play?

The CBSO has a worldwide reputation for adventurous and innovative programming, with particular emphasis on contemporary music. The repertoire of the CBSO Youth Orchestra reflects this – we aim to programme works that you would not normally expect to play in a Youth Orchestra. Recent works performed include Strauss' An Alpine Symphony, Rachmaninov's Second Symphony, Mahler's Seventh Symphony, Ravel's Daphnis et Chloe, Shostakovich's Eleventh Symphony, Prokofiev's Fifth Symphony, Bruckner's Romantic Symphony, Bartók's Concerto for Orchestra, Walton's First Symphony, Nielsen's Inextinguishable Symphony, Bartók's The Wooden Prince and Korngold's Violin Concerto – music that we hope you'll find challenging and exciting, and probably won't get the chance to play anywhere else!

We also commission new music, and in February 2007 the Orchestra premiered Streamlines, a brand-new work, written specially for it by Tansy Davies. In 2009, we premiered another commission, Piu mosso by Luke Bedford, and in 2011 we followed this with a third new work, this time commissioned from the young British composer Ben Foskett. Charlotte Bray also wrote us a new piece for the 2013-14 season and, in February 2017, we premiered Breakbeat by Daniel Kidane. In 2023 we premiered Striations by Bergrύn Snæbjörnsdóttir.

There will also always be great classics by composers like Stravinsky, Elgar, Rachmaninov, Tchaikovsky and Beethoven, all with conductors and soloists who'll show you these works as you've never heard them before.