History
Ninety superb musicians, and over a 100-year tradition of making the world's greatest music, in the heart of Birmingham.
For more than 100 years, the City of Birmingham Symphony Orchestra has taken different names and forms. Weathering war, recession, and social change, and evolving from a part-time municipal ensemble into a symphony orchestra with a worldwide reputation.
But, throughout everything, the CBSO has been Birmingham's orchestra – the musical embodiment of one of the world's great cities, in all its ambition, complexity and diversity.
---
Where it all began...
The earliest orchestral concerts known to have taken place in Birmingham happened the Moor Street Theatre in 1740 - and more than 20 separate orchestras are recorded as having existed in the city between that date and the foundation of what is now the CBSO in 1920.

But it was from 1916 onward that the real desire to pursue a single, permanent, municipally funded orchestra in Birmingham came about - designed to be part of Birmingham's ' civic, social and cultural welfare. Leading members of this campaign included Neville Chamberlain, Lord Mayor of Birmingham from 1916 to 1918; Granville Bantock, composer and Professor of Music at the University of Birmingham; and Ernest Newman, a leading Birmingham-based music critic.

On 17 March 1919, a proposal was submitted to Birmingham City Council for an orchestra of 70 musicians. The city council agreed to support the proposal with an annual grant of £1,250 for an experimental five year period, making us the first publicly funded orchestra in Great Britain.
1920: Founded as the CBO, we were the first publicly funded orchestra in the UK's history.
The Orchestra officially formed on 19 June 1919 and named the City of Birmingham Orchestra or CBO, with Appleby Matthews (1920-1924) as our first Chief Conductor. The first rehearsal took place at 9.30am on 4 September 1920, in the band room at the Birmingham City Police's Steelhouse Lane station, with the first concert given under Matthews' baton at the Theatre Royal on 5 September 1920.

The inaugural concert of the Symphony Concerts series was given at the Town Hall on 10 November 1920, with Edward Elgar conducting a concert of his own works, including his Cello Concerto. This first season continued with Ralph Vaughan Williams conducting his own London Symphony, Hamilton Harty conducting Berlioz's Symphonie fantastique, Adrian Boult conducting Rachmaninov's Second Symphony, Landon Ronald conducting Brahms' Second Symphony and Jean Sibelius conducting his own Third Symphony.
Two features that would become longstanding traditions for the orchestra were also established during the first year: a strong representation of new music in the orchestra's programmes; and from February 1921 the orchestra's commitment to musical education was underlined with a series of concerts for city schoolchildren.
From 1924, Adrian Boult (1924-30 & 1959-60) took over as Chief Conductor, introducing lunchtime concerts at the Town Hall, pre-concert talks, open rehearsals for students, and free concerts for children. The Orchestra also developed an important relationship with the recently established BBC, and our concert at Birmingham Town Hall on 7 October 1924 was the first orchestral concert anywhere in the world to be transmitted as an outside broadcast.
1924: CBO performs the first orchestral concert in the world to be transmitted as an outside broadcast.
Boult's impact on the orchestra was also reflected in an improvement of technique and musicality, as well an exploration of more adventurous repertoire, with the Orchestra performing music by the likes of Bartók and Mahler, who were not often performed in England at the time.

"The strongest impression is of a very great gain in note accuracy, a much improved ensemble, and a high standard of playing from the string group. The advance made within a single season is so considerable as to be remarkable"

Birmingham Post
Four conductors were shortlisted to succeed Boult, but it was Leslie Heward (1930-1943) who succeeded. The CBO's flautist remarked that he had "never known a conductor who was so much respected by his players." as Leslie Heward. He was also known for his honesty and integrity, sometimes restarting a public performance he felt to be substandard halfway through, saying "I'm sorry, we can do better than that." His programming in Birmingham was bold: 28 of the 41 pieces played in his first season were Birmingham premieres, and the orchestra became particularly known for its interpretations of Dvorak, Sibelius and modern British composers - and in 1938, he conducted as Béla Bartók played one of his own Piano Concertos.
The Symphony concerts under Heward drew excellent attendances, but audiences continued to drop for concerts of popular classics as competition from radio and the cinema for leisure time activity increased. Relief from the resulting financial pressure came through a series of arrangements with the BBC, when in 1930 the broadcaster agreed to reduce its Birmingham orchestra to an octet – with the redundant musicians being auditioned by the CBO – in return for the CBO performing 13 studio concerts each season: an important step towards permanent year-round contracts for the CBO's players.
The stability this brought meant that Heward could build on the achievements of the previous 15 years and by the late 1930s the CBO was playing to a standard comparable to the orchestras of major cities of continental Europe.

1939: The outbreak of World War II saw Birmingham Town Hall commandeered for the war effort and the CBO cancel all of its engagements.
The orchestra did start performing again as the "City of Birmingham (Emergency) Orchestra" on a part-time basis.
During the war, the orchestra had only 62 musicians, most of whom were employees of local munitions factories. In an attempt to provide some stability the committee introduced permanent year-round contracts for musicians from May 1944, funded by the city council's education committee in return for 50 days of educational work from the orchestra per year.

New Music Director George Weldon (1944-1951), also conductor of the City of Birmingham Choir,helped to grow the number of players. He was flamboyant and charismatic with a love of fast cars and he cut a glamorous figure on the podium. He broadened the orchestra's reach by introducing modestly-priced summer seasons of promenade concerts from 1945, and from 1950 introduced industrial concerts aimed at the city's manufacturing workforce, alongside annual seasons in Wolverhampton, Nottingham and SheffieldIn January 1948 the orchestra was officially renamed the City of Birmingham Symphony Orchestra at Weldon's personal request.

1948: Orchestra officially renamed at the City of Birmingham Symphony Orchestra (CBSO).
Audiences were unpredictable, and Weldon was criticised for programming too much lightweight repertoire - and in 1946 Eric Blom criticised the orchestra for over-performance of Vaughan Williams' Fantasia on "Greensleeves''. The orchestra responded by performing the work in a further concert... backwards!

However, with attendance at CBSO concerts averaging only 60% of capacity, the Birmingham Post ran a series of articles in 1949 arguing for a new approach. And in 1951, the incoming executive chairman of the CBSO committee approached Rudolf Schwarz (1951-1957) to take over as the orchestra's new chief conductor. Schwarz had a well-established career as an operatic conductor in pre-war Germany, but his role as music director of the Jewish Cultural Organisation in Berlin led to him being interned by the Nazis in Belsen, from where he was rescued in 1945. Former conductor Adrian Boult wrote to him to say that Birmingham had "the nicest people" and assuring him he would enjoy the city. Schwarz wrote: "He was absolutely right! I found that Birmingham was alive – a city with people who work."
From the start, Schwarz's programming was radically different to Weldon's, reflecting a Central European repertoire alongside many unfamiliar British works. He reserved an entire day per week for rehearsals, which, despite resistance from conservative orchestral players, quickly began to bear fruit, and the orchestra began to attract front-rank soloists again. The orchestra made its first television appearance in 1954 and in 1955 visited the Netherlands on its first overseas tour. Most significant were the performances in 1955 and 1956 of the first of a series of new works commissioned for the orchestra by the John Feeney Charitable Trust – Arthur Bliss's Meditations on a Theme by John Blow and Michael Tippett's Piano Concerto.
1954: The CBSO makes its first appearance on TV.
In September 1956 Schwarz announced that he would be leaving the CBSO for the BBC Symphony Orchestra at the end of the following season - and it was Andrzej Panufnik (1957-1959) who was chosen to replace him.
Panufnik was best known as a composer, but had built a career as a conductor with the Kraków Philharmonic Orchestra and Warsaw Philharmonic Orchestra. His first season in Birmingham was highly adventurous, and some concerts would start with only 13 players on the platform. In 1959, however, Panufnik decided not to renew his contract, intending to concentrate instead on composition, explaining "I have learnt one thing. It is impossible to conduct a permanent orchestra and compose at the same time." Panufnik's unexpectedly early departure created problems for the CBSO's management, and Adrian Boult returned for a year, "combining nostalgia and a generous rescue act".
When he was appointed, Hugo Rignold (1960-1969) had already conducted the CBSO numerous times since 1955 and was noted for his professionalism and technical expertise - alongside his reputation as one of the country's leading conductors. During this time, the Orchestra welcomed renowned conductors such as Nadia Boulanger, who conducted a programme of works by her sister Lili Boulanger. The most significant premiere of the period, was the first performance of Benjamin Britten's War Requiem at the dedication of Coventry Cathedral in 1962. The Daily Telegraph described the work as "a masterpiece of the first order", Fischer-Dieskau wept during rehearsals and at the end of the performance Harper noticed that "all around her people were in tears".

Rignold also updated the orchestra's repertoire, conducting 31 premieres during his tenure. The era saw Birmingham's first complete performances of works including Debussy's Images, Ravel's Daphnis et Chloé, Schoenberg's Verklärte Nacht and Walton's Violin Concerto, and a series themed around "Masterpieces of the Twentieth Century" was held in 1966 and 1967.
1962: The CBSO gives the world premiere of Britten's War Requiem at Coventry Cathedral.
In 1967 Rignold resigned, which left the Orchestra free to give trials to potential replacements during the 1968–1969 season. In Autumn 1969, Louis Frémaux (1969-1978) was announced as Chief Conductor.
Under Frémaux, the Orchestra saw vast improvements, with The Guardian writing ""there is no better British orchestra outside London". Regular sectional rehearsals were brought in from 1970 and Frémaux brought a new emphasis on the recruitment of young principals, setting up a complex system of auditions and trial periods and attending over 900 auditions himself.
"under Fremaux they combine a purity of intonation which metropolitan orchestras might envy, with a fluid and spontaneous style of phrasing"

The Guardian
The popularity of Frémaux's concerts saw attendances at Birmingham Town Hall increase from an average of 67% in 1968–69 to 88% in 1970–71, with 45% of the audience aged under 25. In response, plans were drawn up for a new concert hall to be built just off Broad Street, but unfortunately this scheme was halted by a financial crisis at the city council and was turned down for being "impractical".

In 1973 the CBSO Chorus was formed at the instigation of the CBSO's music director Louis Frémaux, established under Gordon Clinton to give the orchestra complete artistic control over its choral backing for its burgeoning recording activities. The Chorus gave its first concert – a performance of Berlioz's The Damnation of Faust - in January 1974.
1973: The CBSO Chorus is founded.
For all its triumphs, Frémaux's tenure in Birmingham was to end in a short-term crisis. However, it resulted in a series of longer term changes that had positive effects. In 1978, Ed Smith was appointed as General Manager, and two years later the orchestra welcomed Simon Rattle (1980-1998), at the time "still an unknown quantity to most people", as Principal Conductor and Artistic Advisor.

At the time of his appointment, Rattle was the UK's youngest principal conductor and he combined youth, energy, ideas and exceptional talent. Under his baton, the CBSO rose to international acclaim as one of the world's most exciting, versatile and innovative orchestras and the series of recordings and overseas tours - he was named Music Director in 1990.

1991: CBSO move into Symphony Hall - giving the first performance on the 15 April.
In 1991, the orchestra moved from Birmingham Town Hall to a new home venue, Symphony Hall, inside Birmingham's International Convention Centre - a purpose built concert hall with the finest acoustics in the UK. The nearby CBSO Centre, a converted factory, became our management offices, rehearsal room, and a concert venue in its own right.
In 1983, Simon Halsey became the Chorus Director of the CBSO Chorus forming a close musical partnership with Simon Rattle, and beginning an enduring relationship with the Chorus which would see it travel the world with the CBSO. He also formed the CBSO Youth Chorus in 1994.
Following Rattle's departure, Sakari Oramo (1998-2008) became chief conductor in 1998, and music director in 1999. Birmingham audiences received him warmly and, in summer 2004, he received recognition of his outstanding contribution to the musical life of the city. His CBSO work included the Floof! festival of contemporary music and an exploration of the music of John Foulds.

2004: CBSO Youth Orchestra is founded.
In October 2007, Andris Nelsons (2008-2015) was named as the 12th Principal Conductor and Music Director. The appointment was unusual in that Nelsons had conducted the CBSO only in a private concert and in a recording session, without a public concert engagement - but he enjoyed critically acclaimed seasons and an outstanding tenure with the Orchestra. Highlights included Wagner's Lohengrin, the 50th Anniversary performance of Britten's War Requiem in Coventry Cathedral and several internationally acclaimed recordings. He was also celebrated by members of the orchestra, who praised him on allowing the musicians freedom, and living in the moment - as well as being able to take risks.
In July 2015, Mirga Gražinytė-Tyla (2016-2022) first guest-conducted the CBSO. In February 2016, the CBSO named her as its next music director. She was the first female conductor to be named music director of the CBSO, conducting Tchaikovsky's Fourth Symphony at her very first Prom in charge of the CBSO. "If ever there was a Prom to put London's classical crowd in their place, to remind us that the city isn't the be-all and end-all of concert-going, then this was it" wrote The Arts Desk.
Highlights have included an ambitious Debussy Festival; Ciurlionis' The Sea, complete with live paintings by Norman Perryman; a commuter-startling appearance on the concourse of the brand-new Birmingham New Street station; winning Gramophone's Record of the Year, and a continued style of devising programmes that reflect both her own passions and Birmingham's musical heritage.

2020: CBSO celebrates its Centenary.
Kazuki Yamada (2023-) has been the CBSO's Chief Conductor and Artistic Advisor since April 2023, building upon the deep musical bond formed with players during his time as Principal Guest Conductor of the orchestra since 2018. Yamada made his debut with the CBSO in 2012, and following an intensive search process for Mirga's replacement, a unanimous decision was made to appoint Kazuki.
His performances are marked by his trademark physicality and energy, and he will continue to build on the deep connections he has already forged with the musicians and audiences alike.
Image gallery
Explore our history in images...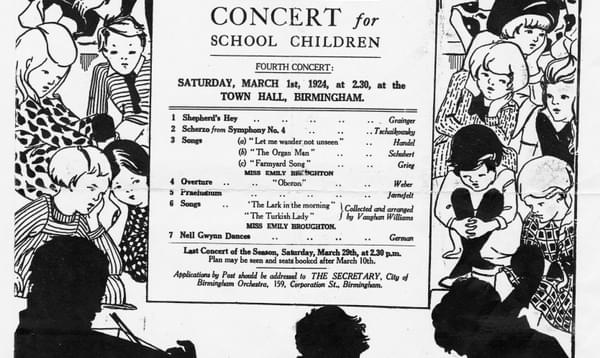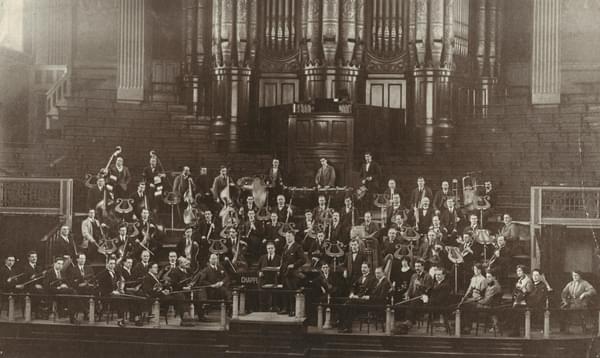 ---
Forward: 100 Years of the City of Birmingham Symphony Orchestra
by Richard Bratby

We commissioned Richard to write an illustrated history of the orchestra to celebrate our centenary in 2020 - something which was both historically rigorous and entertaining to read.

Forward: 100 Years of the City of Birmingham Symphony Orchestra celebrates a truly pioneering institution, at home and abroad.
"gorgeously produced, seamlessly readable, superbly expressed and full of splendiferous anacdotes"

Jessica Duchen
Buy now
Details
Synopsis

The CBSO's list of `firsts' is striking: the first major orchestra to present children's concerts, the first to appoint permanent education staff, a pioneer in its attitude to female musicians and management, and a globally recognised example of the power of the arts to drive urban renewal. Each of its conductors brought something new, from the quiet determination of Leslie Heward and the rejuvenating energy of George Weldon to the revolutionary transformation of the Simon Rattle years, and the bold new vision of Sakari Oramo, Andris Nelsons, and Mirga Gražinytė-Tyla.

But the CBSO's history extends far beyond the concert platform, embracing Edward Elgar and Neville Chamberlain; Jean Sibelius and Benjamin Britten; rock bands, film scores and Bollywood legends. Through tragedies and triumphs, gruelling tours and an unwavering commitment to new music and new audiences, the orchestra has survived and thrived, taking as its watchword Birmingham's own motto: Forward. This is its story.
Info

Publisher: Elliott & Thompson Limited
ISBN: 9781783964536
Number of pages: 288
Dimensions: 242 x 182 mm