Symphony Hall
Located in Birmingham's Centenary Square, Symphony Hall is considered to be one of the finest concert halls in the world.
As Resident Orchestra at Symphony Hall, we gave the first ever performance in the hall with Sir Simon Rattle in 1991, and now we perform the majority of our annual concerts here too!
Tickets
For ticket enquiries about CBSO performances at Symphony Hall, please contact the B:Music Box Office via email or call 0121 780 3333. For information about ticket pricing and ways to save, click here.
Getting Here
Catching the tram is an easy way to get to Symphony Hall. You can plan your journey in advance, purchase your tickets and find out the latest travel information on the My Metro App and West Midlands Metro website.
Symphony Hall is accessible by road, rail and bus. There are multiple car parks nearby, including ones at Brindley Place and The Mailbox. It is also easy to get to from New Street and Snow Hill stations.

Parking
The most convenient parking facilities for Symphony Hall are:
Q-Park Brindley Place (1 Brunswick Street, B1 2JF)
Pay & Display car park underneath the National Indoor Arena (NIA) (B1 2AA)
Q-Park The Mailbox (Royal Mail Street, B1 1RD)
Access and accessible parking
To find out more about accessibility at Symphony Hall and Town Hall, or to join the Access Scheme, visit the B:Music website. You can also contact the Box Office by calling 0121 780 3333.
---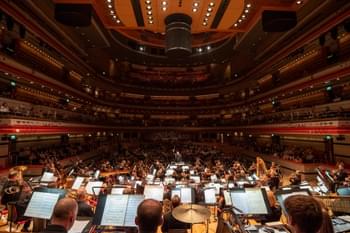 About Symphony Hall
Symphony Hall has been host to almost all CBSO concerts since its opening in 1991. It is acclaimed as one of the finest concert halls in the world by critics, performers, and the public alike. The classical music programme is complemented by rock, pop, folk, country, and jazz. The renowned acoustics of Symphony Hall have attracted many world-class musicians to perform in the city. The acoustics have also enabled the CBSO to record many award-winning discs, reaching the ears of a worldwide audience. You can find out more about the history of Symphony Hall here.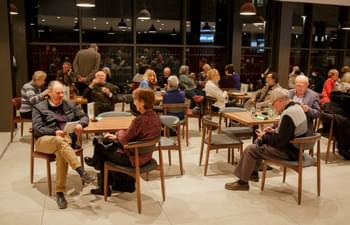 Food and Drink
Following a recent renovation, Symphony Hall now has a new café on the stalls level of the foyer spaces, serving food and drink from up-to 90 minutes before performances. To find out more, and see a sample menu, visit the B:Music website.